Teachers
Aura Ruddell (piano, composition/songwriting)
Aura is the director of Cicada Music School.  She is a Classically-trained pianist who appreciates Bjork, Dave Brubeck, and the Broadway Lion King as much as she does Beethoven, Ravel, and Shostakovich.  Her piano lessons are not limited to one genre or method, and are uniquely structured around each individual student's needs and experience.  Self-expression and creativity are fostered as much as possible, and every student will receive instruction in music theory, ear training, improvisation, and composition.  She is not taking new students at this time.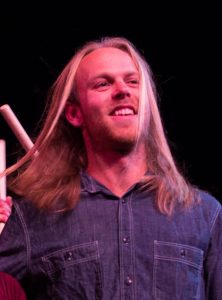 David Chapaitis (guitar, bass, recording)
Dave is a Seattle-based guitarist and composer.  He focuses on the teaching of music for the purpose of creative self expression and believes that music should be taught in the way that painting or drawing is taught, with the goal of fostering artistic creativity.  Music theory and technique on an instrument are the foundations for the freedom to express ourselves on the sonic canvas, and as the tools for our art.  For these reasons Dave strives to foster an atmosphere of encouragement and open-mindedness between musicians; to learn to play together in sound.  Dave teaches guitar, recording arts, compositional techniques, improvisation, and includes as much as possible of all of these aspects in his instruction.  He is taking new students ages 8 and older at this time.  Please inquire and sign up by filling out this form.